Andar Bahar online game
Depending on what country you're from, family card games may have been integral to your childhood or not. But most people who grew up playing cards with friends, siblings, or relatives recall these times as the most wonderful memories of being a child. For anyone from India, the Andar Bahar game has a unique charm, being one of the favorites and bringing many enjoyable moments to mind. It is ingrained in Indian culture, with references to Andar Bahar card game in literature and movies, it is considered to be centuries-old, and often a part of family traditions of festival celebrations.
Requiring just a traditional 52-card pack of playing cards, it can be fun for hours on end, but casino Andar Bahar game offers potential monetary gains as well. Even if you are new to it, why not try something different today, as a less-known game steps into the limelight of the casino floor?
How to play Andar Bahar
The name of this much-loved game comes from Hindi words meaning 'Inside' and 'Outside', for that's the basic rule of how cards are dealt (alternately to the Andar and Bahar sides). So, if you've never played Andar Bahar casino game before, it's easy to give it a try. The first card dealt (e.g.10 Diamonds) becomes the joker card (also referred to as the middle, game or house card), while the dealer has to keep drawing cards until one of similar rank as the joker comes up. This matching card (e.g 10 of any other suit) can land either on Andar or Bahar (so there are two essential betting options), and when this happens, the round ends. Following a shuffle, the next round starts.
Andar Bahar casino game rules and odds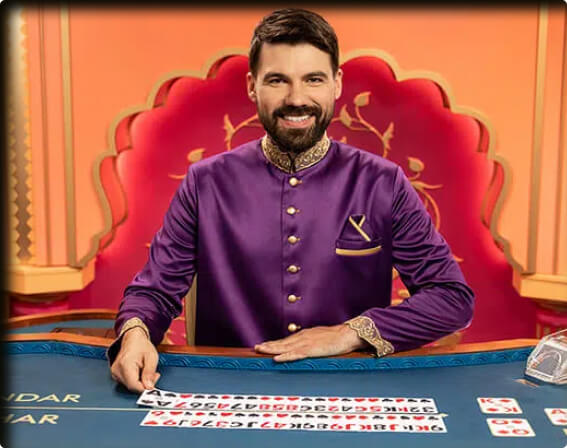 Technically, this would be a 50/50 chance game, but in fact, the odds of winning are slightly higher (51.50%) for the side where the card is dealt first, and slightly lower for the other (48.50%). This is due to what's known as Win on First Card that may occur instantly and end the round with no card dealt on the other side. Most Andar Bahar game rules factor in the joker's suit, with the first card dealt on Bahar if the joker is red, and on Andar if it's black. So, the card dealing may start on either side, and whichever side gets the cards first pays 1.9x your stake, as it has higher odds of winning, while the other one pays x2.
How to play Andar Bahar casino game and what are the best bets?
Unlike poker or Teen Patti, this is a game not involving cards being dealt to players – it is based solely on guessing the outcomes of the dealer's actions. Making the Andar/Bahar choice is referred to as the 'regular' (and most favoured) bet. But there's certainly more to Andar Bahar online betting than just clicking on either side that you decide to wager on, and selecting a bet amount. The other options (sidebets) include:
Joker card bets
Color Bet (Red or Black) - 1.9 x your stake
Joker card suit - 3.8 x your stake
Joker card value (Below 8) - 2 x your stake
Joker card value (Above 8) - 2 x your stake
Joker card bets
There is a range of bets on the number of cards dealt out before the round is complete:
1-5 (x3,5)
6-10 (x4,5)
11-15 (x5,5)
16-25 (x4,5)
26-30 (x15)
31-35 (x25)
36-40 (50)
41+(120)
Each five-card segment has different odds, and some Andar Bahar online cash games will also offer the Win on First Card betting option. Overall, it's an easy and fast-paced game, but anyone can start by exploring it for free, to see what a typical round looks like.
Andar Bahar online game and its popularity today
Traditional card games are dying or becoming old-fashioned, as they are crowded out by video games, social media, or other forms of online entertainment. Think back to the last time you played cards with family or friends, or considered a card game night at home. But here's the good news: in the online gaming world, any regional or lifestyle specifics won't matter, and you don't have to find any particular companions or reasons to play. That's why with casino online platforms, people keep discovering games originating from other cultures. That, and the availability of demo play, is how many casino visitors come across new favorites they wouldn't consider trying if these weren't easily available online.
This is why the Andar Bahar betting game is played in different countries, and its popularity has grown beyond anything that could have been expected. Nowadays, most casinos and developers consider it a great addition to their portfolios. Besides mobile compatibility, easy-to-understand rules, effortless gameplay, and the option of placing different kinds of bets at a time, the Andar Bahar real money game features different variations you can choose from.
Versions of the Andar Bahar casino game
The virtual renditions of this classic Indian card game include:
Andar Bahar video online game

Found in the same category as video poker or slots, this software-powered variation has a similar feel. This is a standard RNG-controlled 2D or 3D animated game, and as it may come from different providers, the side bet and customization options vary. You can try video online Andar Bahar for real money or in demo mode.

Speed ​​Andar Bahar

Featuring faster gameplay, 2D or 3D graphics, this version is similar to Andar Bahar video online game. Typically having higher speed and stakes, Speed ​​Andar Bahar still offers different betting options and limits.

Andar Bahar live

Usually found under the live dealer tab, Andar Bahar live is the most exciting, immersive and enjoyable variation of Andar Bahar for real money. The high-quality HD streaming gives it a realistic casino feel, the cards are cut and dealt by an actual dealer located in a land-based studio. The Andar Bahar live casino table layouts may differ slightly, depending on the provider. Such tables can accommodate any number of players, but have various betting limits, so you place bets by clicking on chips according to your bankroll and betting strategy.
Andar Bahar tips and strategies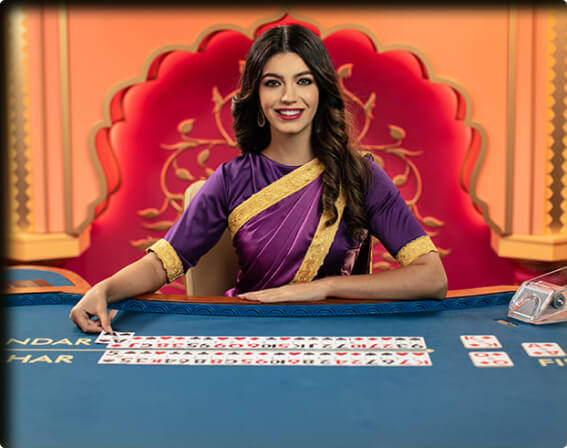 There isn't much to discuss strategy-wise, as this isn't a game of skill whatsoever. Any references to "Andar Bahar Winning Formula'' simply mention the Martingale system that may work for 50/50 games. According to that strategy, players should double the bet size for the next round after a loss, returning to the original bet after a win. However, the Martingale system can't offset the house edge and guarantee covering your losses, so it isn't a perfect answer to "how to win at Andar Bahar in casinos". But if you want to give it a try, play a demo version of Andar Bahar for a while to see if the Martingale system might work for you.
How to play online Andar Bahar for real cash
One of the advantages of a game that requires no strategic approach or decision-making is the simplicity of wagering and real money play. But before clicking on the chips you see on the screen and choosing to bet on Andar Bahar for real cash wins, registration and depositing are the commonly required steps. This has never been a fun part of any casino experience, but if you wish to skip registration, you can easily do that when you decide to play at Bollywood Casino. Simply log in with Google or Facebook, then click on "Deposit" in the top right corner or next to the game of your choice, pick the payment method that suits you best, the amount to deposit, and confirm it by clicking the "Make a deposit" button. If you want to start to play the fastest and easiest way, that's it! Don't forget to scoop the bonuses, too!
How to bet in Andar Bahar live game
As soon as you see the funds on your deposit, you can wager on live dealer games. There are no demo versions of live games, but at Bollywood Casino you have a "watch game" option as a registered player. So, you can see the live Andar Bahar game essentials and functions before placing your bets.
The lower section of the screen includes the bets/sidebets panel, and the statistics panel showing the Andar/Bahar win ratio, the last 8 Joker cards, and the results of the previous rounds. You can bet from just ₹50, but the chips value range (50, 200, 500, 1K, 2K, 5K, 10K) is sufficient for different bet amounts and types of players. At the beginning of each round, you'll see an indicator "Place your bets" quickly changing to "Last bets" and then to "No more bets".
As the cards are dealt, depending on their number you'll see different blocks becoming highlighted in the "Bet how many cards will be dealt" section – until the winning card of the same value as the Joker is drawn and the dealer announces a win. The round is over, and "Andar wins" or "Bahar wins" is what you'll see on the screen. If your guess was correct, or you placed any winning sidebets, you will be credited instantly and this will be reflected in your balance.
Play Andar Bahar in Bollywood casino
Online Andar Bahar game is becoming a casino staple and the next big hit in the industry because of its simplicity and fun of playing that is combined with decent odds and sidebet payouts. You can rely solely on luck without overthinking any of your betting decisions. Or, you can develop your own Andar Bahar winning strategy compliant with your budget and your gambling ambitions.
Anyway, it's more fun to do it when you can take advantage of the casino bonuses. At Bollywood Casino, our welcome bonuses will match your five initial deposits, and then will continue coming as special weekend gifts, loyalty rewards and other regular promotions. Whether you prefer to just play Andar Bahar online, or to explore different categories of casino games, it's easier to diversify your experience when you have plenty of bonus money to experiment with.
Andar Bahar casino game rules and odds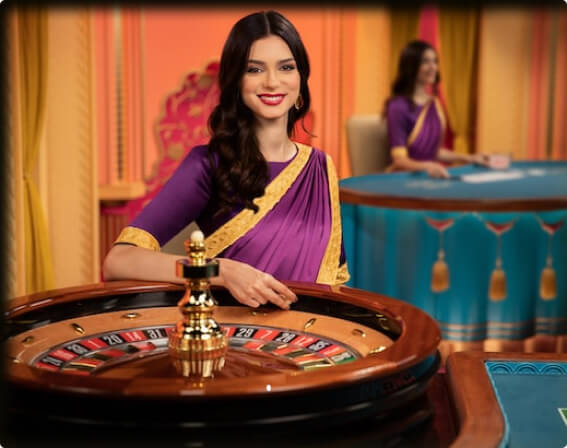 With fast-paced games like Andar Bahar, it is easy to play and win. In fact, wins are more frequent and you're less likely to have long losing streaks than with Roulette, Poker or Blackjack. But keep in mind that what you win in online Andar Bahar you may promptly lose in the following round. Thus, it may be hard to avoid overspending unless you set a budget and comfortable betting and/or loss limits. Not many players wish to turn every card game into a strategy or budgeting and calculating activity, but any reputable casino encourages its customers to play responsibly, and so do we.