Play Craps for Real Money at Bollywood Casino
Craps is a popular dice game that is normally played in a casino as well as in informal settings. Online craps is played using a pair of dice where punters wage on dice rolls. Players typically wage on what they believe is the next outcome of the roll. When playing an online craps game, you wager against other players betting or the house. Playing online casino craps outside a casino setting is referred to as street craps.
To find out more about how to play online casino craps, continue reading.
Summary of Playing Craps
Craps is one of the easiest games to learn. It can be played both at land-based casinos and online casinos. It is a straightforward game that maintains a few basic bets, which you need to understand to start playing. This includes "passline" and "don't passline" bets. Nevertheless, you need to understand that there are more than 40 additional crap bets, some of which are more complex than others, like bank craps. Newbies should stay away from these complex casino games offered by Craps tables as they need to be learned with time.
In case you want to become a pro in playing craps, we recommend you check our guide on how to play craps. It is easy and simple to follow, and it contains all the information needed to begin playing craps with confidence.
Craps Basic Rules and Games Objective
It can be tricky to learn Craps as it is a fast-paced game. Fortunately, most craps game rules revolve around the shooter and bets, thus are very easy to learn and implement. Here are some of the casino craps rules to adhere to when you join a craps game at a casino.
1. Wait until there is space at a craps table.
About 20 players can join a game of craps, and there is a chip shelf for each player. The dealer uses the shelves to keep track of the bets. Wait until one becomes available to join the game.
2. Follow the shooter's etiquette.
In case the shooter gets the point to end the game in craps, they remain the shooter in the next game. The position only passes to a new player when the shooter gets a seven.
3. Don't stake on separate die.
Bets in Craps are based on the sum value of the two dice. Dealers can't accept bets on an individual die game; he only accepts for the two dice.
4. Understand that you can lose or win a bet if you are not the shooter
Several Punters think their bets count when they're the ones rolling the dice. Players are in a Craps game if chips are on the table.
5. Stake bets only when dealers are taking them.
The dealer will make known when the bets are being taken in each round of craps. No one appreciates a player delaying the excitement at the craps table; therefore, when the dealer moves around, the table gets yours and place bet.
No skill or strategy is required if you want to play craps as it is a game of chance. The game's objective is to predict the outcome of the first roll of the dice accurately. Players bet their bets on the dice combination that they think will occur when the dice are rolled.
Breaking Down Craps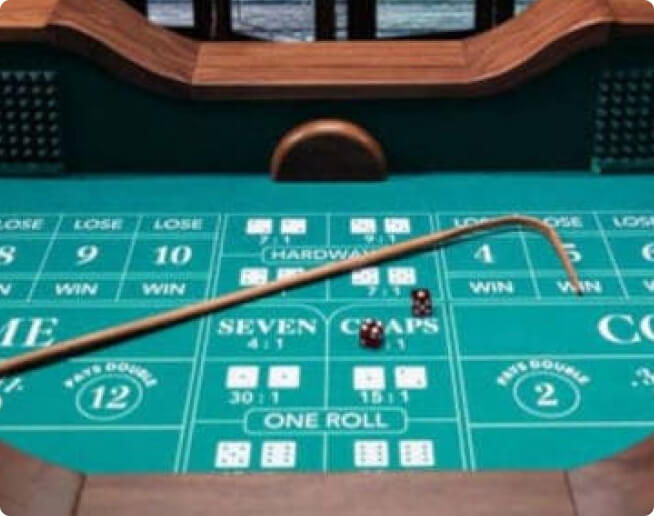 Craps table can be an exciting place if you are new to the game, but it can also be confusing. Get to understand some basic components of the table before you play.
The Table
At first glance, the craps table can be quite intimidating. The layout features all the possible betting options available to players. The rule of the thumb is bets on the outside of the table have better odds than those in the middle.
The Dice
The bettor bets on the outcome of the dice on each roll while the stickperson is the only one allowed to hold the dice, and he uses a curved stick to collect them and pass them to the shooter.
The Stick
This is a long curved stick used to collect dice by the stickperson.
The Crew
There are numerous possible bets at the craps table, and the game can be quite confusing. Don't be frightened as there is a whole crew to help you out.
The Boxperson
This individual supervises the box, the area in the center of the table where bets are made. They verify payments, book call bets which are bets made on credit from the casino and control the game.
The Stickperson
The role of this individual is to keep an eye on the dice at all times. Their role is to call the rolls' outcome and use the curved stick to retrieve the dice roll. Additionally, all the center bets are taken by the stick person.
The Shooter
In craps, each player has a chance to be the shooter. The shooter first rolls the dice for the entire table. The honor moves clockwise around the table. If you are not the shooter, you are betting on the results of the shooter's roll.
Playing Craps in 5 Simple Steps
Here is an easy guide to play Craps:
1. Have a game plan
Set Your Budget
It is always exciting to be at a busy craps table at the casino. However, it is critical to remember it is a gambling game, and the house always wins over time. Come up with a budget and stick to it so you don't lose more than you can afford.
Avoid Bringing Your Credit Cards
Ensure that you do not spend more than what you can afford. Stake with cash only and leave your credit cards at home.
Have Win Limit
Being on a winning bets streak and losing bets it all takes the fun out of the game. Set a win limit in advance when it is time to walk away, even if you are on a winning streak. By setting a bet wins limit you can enjoy your win.
2. Choose Your Table
Dollar amounts and betting limits can differ between casinos and tables, but every craps table layout is precisely the same. Ensure that you select a table that is inside your budget range. In case you are new to craps, it is wise to pick a quieter table where it might be easier to follow along.
3. Buy Chips
At the craps table, you can exchange your money for chips. Place your cash on the table and inform one of the crew members that you would like to buy chips. Do this after the current shooter rolls and while the dice are in front of the box person in order not to disrupt the game. A dealer will put your chips on the table for you to collect and store in the built-in rack that is in front of you along the edge of the table.
4. Stake Your Bets
In Craps, staking bets is done directly on the crap table. Players are only supposed to place chips on the bets before them. These bets comprise the passline, and don't pass bets, the come, don't com, Big 6/8, and field. Any bets in the numbered square need assistance from the crew. The bets that have lost are collected, whereas the winning bets are paid out.
Players can pick from over ten types of bets with different mixtures, but most of these bets favor the house.
5. Enjoy Playing
If you decide to enjoy the common craps bets or try something rather more advanced, ensure you have fun. Craps can be a very exciting social game of chance if you have the opportunity to roll the outcome of the whole table.
| | |
| --- | --- |
| 🎰 Game name | Craps |
| ⚙️ Craps Software | Evolution Gaming |
| 💰 Money Game | Yes |
| 🚀 Free Game | Yes |
| 🔥 Step by Step Guide | Yes |
| 💡 Game Rules | Yes |
| 🤝 Game tips | Yes |
| 📱 Mobile App | Yes |
| 💸 Minimum deposit | ₹ 150 |
| 🏦 Payment methods | PhonePe, Online Banking, UPI, MobiKwik, Bitcoin, USDT, RuPay, PayTM, NetBanking, Visa, Freecharge, Airtel, |
| 🎁 Current bonuses | Cashback, Namaste Pack, Free Spins |
Table Layout for Craps
Besides staking bets, all newbie craps players must understand the casino craps table layout. Most dealers will enlighten players on different bets as casino craps is a fast game. As a player not knowing how to play craps at a casino table, you can limit yourself on the number of bets you can make, which can be costly to their winnings. Here is a preview of the Craps table:
The standard craps table has two sides that have the same pattern on the right and the left. No difference is present in gameplay between the two sides; it is designed in this way so that it can offer more room for craps players to join in a single roll bets game of craps on the table. This thus allows two dealers to manage bets on a craps table when the game gets busy.
The Pass Line and Don't Pass Bar
Pass line Bets are staked in this section of the craps table. Let's say a player thinks that shooter will land a combined 7 or 11 on the dice; these bets will be placed in the pass line box by the dealer. On the other hand, in case the player thinks the shooter will land a 2, 3, or 12, these are 'don't pass bets' and will be placed in the 'don't pass bar' box by the dealer.
Big 6 and Big 8
Big six and big 8 are among the most common bets casino players make on the craps table. Usually, casino players place bets on this section of the craps if they think the shooter will land a 6 or 8 before getting a 7.
The Field
In this craps table area, a player can bet on whether the shooter lands a 3, 4, 9, 10, or 11 on a single roll of the dice. This bet type is referred to as the Field. In this segment of the craps table, punters can double or triple their money if they place a wager on the dice landing on 2 or 12.
Come and Don't Come
The Don't Come and Come section on a craps table layout functions in the same way to the pass line bets. But the Come and Don't Come bets are only placed after the passline bet in the craps game. Generally, if a player thinks the shooter will get a 7 or 11 on their subsequent roll, they add their chips to the Come box. Alternately, if a player thinks the shooter will get a 2 or 3 on their succeeding roll, they stake their bet to the Don't come Box.
The Place
The Place is the most fast-paced bet in the craps game, and it is located close to the boxman. Bettors can stake 'Place To Win' wagers on the shooter landing a 4, 5, 6, 8, 9, and 10 before landing a 7. These Bets are normally added in the place and can be made at any time in the game. If a player thinks that shooter will land a 7 before 4, 5, 6, 8, 9, and 10, then they are making a 'Place to Lose' bet. This bet is also included in the Place in Craps table.
Center Section
All players in the craps game share the middle of the craps table. In the center section, players can add their proposition bets. These are bets made on single-roll of the dice faces landing on a particular form.
How to Select a Craps Casino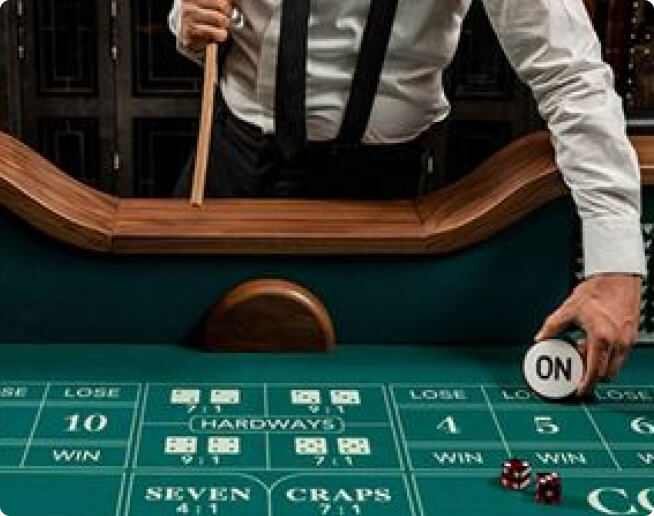 Bettors can improve their chances of winning at craps by choosing a reliable Craps casino like Bollywood casino. Here is a strict criterion to follow:
Find a casino with the highest payout percentage

This is the percentage of your wager that a casino pays out in winning. So a game with a 98% percentage will pay out $98 if your wager is $100. The casino will take $2 as a profit.

The best thing to watch out for is an online casino that has a high payout percentage. You can find this info on the about page or within the header.

Look for clearly defined betting information

Craps is quite complicated in land-based casinos. Although craps has two phases, some bets are not allowed during one stage of the game or the other. Due to this, it is vital to find a real money craps casino that plainly states the bets that are permitted and those that are not allowed before you start to play. Furthermore, you can also learn about the minimum deposit.
Additional features that are important considering
There are numerous factors that you need to consider when it comes to going beyond the design. If you want to play craps online at the best craps site, you need to watch out for:
Trusted review from players from a site like Casino.org
Fast payment and withdrawal options
Friendly and fast customer support
Proper licensing and regulation information
SSL Certification and encryption security measures
A variety of language options
How to Bet Craps Online
Even though most players at a craps table will play with pass bets the entire round, experienced craps players understand there are other wagers that can land bigger winnings. Therefore, it is critical you learn the different bets you can make in craps online casino game, including those with the best odds.
When playing a game of crap for real money, we highly recommend including craps payout odds into your gameplay. Knowing the odds of the dice landing on your bet and the amount you stand to win, you can make informed decisions while craps betting and thus avoid losing your valuable fund.
In land-based casinos, craps games are fast; however, in online craps games, players can take more time to assess their bets. Here are some unique betting functions that you need to be aware of when you play craps online.
Minimum and Maximum Bet Limits- most online casinos will add these functions to common table games at peak times so as to regulate the cash flow. These can consume your bankroll, so it is best to practice on the free craps games version first if you are a newbie at craps games. You can enjoy free spin winning and at the same time learn how to play responsibly.
Repeat/Auto Bets- in online craps games, players may have the option to add a re-bet function or set a specific bet across a stated number of plays. These tools work best for experienced players who want to analyze the effectiveness of craps betting strategy.
Session Timers- Each player should ensure they use this function. It is usually located at the bottom of the game window. Keeping track of your session time is essential for essential bankroll management.
Ways to Win at Craps
Craps is quite thrilling as it is a game of chance. Different from Slot games, Poker or Blackjack, there is little strategy Bettors can make use of in the game. As an alternative, craps players can probably increase their chances of winning by betting strategically. Here are a few tips on how to play casino craps and win.
1. Place the Odds
The house edge on odds is very just, denotation it's zero. Bettors can maximize this by wagering the least bet limit on this pass bet, and then adding their odds bets. Thus, the casino receives a lesser cut of the winnings.
2. Bet Pass and Come
If you are a beginner with little funds, it is essential you focus on making simple bets with low house edges in a craps game. Pass bet and come bet hold the lowest house edge of 1.41%, which is among the lowest in craps bets.
3. Bet on 6 and 8
In craps the dice frequently lands on 6 and 8, besides number 7. These bets hold a house edge of 1.52%, which is higher than the pass and come bets. At 1:1 payout, these wagers do not pay out lower than other craps bets.
Betting Tips for Craps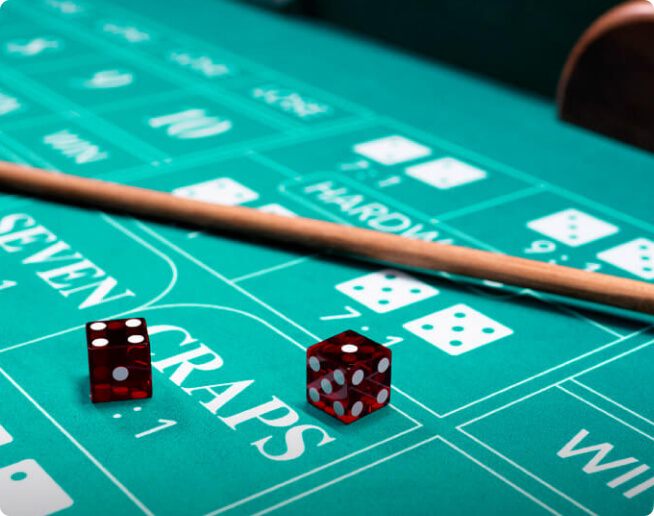 In case you are a new player at craps, here are a few casino craps tips that can help you choose the right casino site for your bankroll and common pitfalls to avoid when playing craps online.
Make Your Mind on Your Bankroll

Decide how much of your bankroll you can commit across several sessions when you are playing craps online at any casino games. After you are sure of the amount you are comfortable losing without decimating your funds, do not digress.

Choose a Craps Casino Game That addresses Your Needs of Gameplay

Casinos online offer an array of craps casino game. For instance, you can opt for Casino Royale Las Vegas Craps, and more. However, it is important to make sure that you understand any rules or odds of these popular casino games as they differ. A reliable online casino will feature a Help page or paytable that lists this information.

Factor the Betting Limits

Several casinos online will allow players to adjust betting limits in a craps game. This can be adjusted for high stake or low stake players. However, ensure that this is done before the game starts. If not, you might lose real money rapidly in an online craps game. If possible find out more about the minimum deposit.

Consider the Return to Player Percentage of the Game

The standard RTP for online craps games is 98.64% in most online casinos. Suppose the casino site you have chosen offers a lower return to the player for its games; it is best to choose a different casino.

Maximize On Welcome Bonuses and Bonus Spins

Most online casinos provide new players with welcome bonuses and bonus spins. Even though wagering requirements should be factored, players can use these welcome bonus and bonus spins to extend their game play. Find out which casino welcome bonus is the best, and then use casino reviews to find the top sites which offer these bonus spins and welcome bonus.

With these bonus spins you can benefit greatly as a player. Another bonus you can benefit from is the deposit bonus.
Quick Craps Strategy Tips
If you want to have a thrilling and exciting experience, a casino craps strategy can go a long way in your gameplay. Craps strategies can help improve your game and confidence. Here are a few craps strategy tips to ponder.
If You Are New To Craps, Stick With Pass Line Bets
These are the most common types of bets, and it is good to learn them fast. You also get a very decent house edge from these bets when you play craps online.
Use a Smart Betting System like The 3 Point Molly
Protect your pass line bets and have three numbers working for you, balancing the money you bet with a better hit chance.
Stay Away From Proposition Bets
The dealer might often try to entice you with these bets, but their high house edge gives you a slim chance of winning.
Avoid Big 6 or Big 8
Avoid giving the casino a 9% house advantage. Place the 6 or 8 instead with a much healthier 1.5% advantage for the casino.
Winning Odds
Below is a table of the most popular online craps bets and their respective lay odds. These odds might vary from one casino to the next. Therefore, checking their odds and payout tables is essential.
Craps Bet
Payable Odds
House Edge
Pass or Come Bet
1:1
1.41%
Don't Pass or Don't Come
1:1
1.36%
Pass Odds or Come Odds

2:1 on 4, 10;

3:2 on 5, 9;

6:5 on 6, 8

0%
Don't Pass Odds or
Don't Come Odds

1:2 on 4,10;

2:3 on 5,9;

5:6 on 6,8

0%
Field

1:1 on 3, 4, 9, 10, 11

2:1 on 2, 12

5.56%

(2.78% if 12 pays 3:1)

Stake 6 or Stake 8
7:6
1.52%
If you are serious about getting started with online casino craps real money, the above odds can help you get started. Spare your time to learn about other options and their own odds.
Quick History of Craps
From the early days of the 1700s, when Craps was known as 'Hazard' and was played by European aristocrats till the high-tech online casino gaming today, we give you a colorful history of craps.
The Crusades
It is believed that the Romans taught Sir William Tyre, an English Noble, a similar game to Craps known as Hazard during the 12th century Third Crusade. Hazard is an Arabic word that means 'dice.' This indicates that the Greeks might have adopted it from the French, who adopted it from the Eastern Orient, but this is just speculation.
The Middle Ages
After being cited in widely held writings, Hazard started to spread all over Europe, in the end being adopted in the houses of noblemen and royalty. This craps tables game to Acadia by French colonists, a colony of French in Canada in the 1700s.
The 18th and 19th Century
After the French were forced out of their colony, they settled in Louisiana and introduced "crebs". American English of the name Craps prevailed over crebs; however, the rules never changed. In the 19th century, craps spread fast throughout the US, with several variations appearing.
20th and 21st Centuries
By this time, craps was a favorite game for gamblers and it had entrenched its roots in American culture. In 1907 John H.Winn, aka the father of modern Day Craps, transformed the game. He introduced various changes to the casino craps layout of the table; he introduced the Don't Pass Bet area and the ability for players to bet right or wrong. These changes are still being used, and they make up the modern-day craps games. The game is now found in every major online and brick-and-mortar casino. Craps online is not slowing down, and it continues to attract gamblers of all ages from most locations.
FAQ
How do you place bets in online craps games?
To place your bets in a craps game, all you require is to review the betting options and choose one that suits your preference. Place a minimum stake, which normally is $1 online, and roll the dice. The two betting options you will have as the shooter will be pass line and don't pass line bet. These bets need to be paid before the come-out roll, and they pay more when they are won.
What is Come Bet In Craps?
A come is the same as the pass line bet, and it holds some of the best odds. However, the variation amongst pass line and come bet is that come bet can be place once there is an established point. This only occurs once the shooter rolls a 8-10 or a 4-6. You can now place your bet, and the shooter roll continues. If a 2, 3, or 12 is rolled, you will lose the bet and win if a 7 is rolled. In case the shooter rolls the point number, the round ends, but the bet will still remain. The come bet offers a payout of 1:1 and holds a house edge of 1.41%. Find out more about point number here.
How are the payouts in Craps?
In Craps games, the payout will depend on your bets and the casino you are playing at. Usually, the best payout will come from bets that are easy to win, like the pass line and don't pass line bet, come bet, and don't come bet. Even though the payouts are 1:1, these bets can be won. Bets holding higher payouts comprise hardways, one roll bets, and place bets. Even though the payout is enticing on these bets; they are very difficult to win.
What are some of the most preferred bets to place in online Craps?
Some of the best bets to place in craps include the pass line, don't pass bar and place 6 and place 8 bets. The place 6 and place 8 bets provide inner action and only require the shooter to roll a 6 or an 8 before a 7. These bets offer a payout of 7:6. Ensure that you do not confuse the place 6 or 8 bet with the big 6 and big 8 bet; the bets are quite different as the latter have a 1:1 payout.
In what ways do I maximize my chances at the online craps table?
The best way to maximize your chance is to play smart. Ensure you make a good betting decision, and you understand the specific rules of a casino you are playing at. This is to ensure that you do not make mistakes that will cost you your bets or potential winnings. In general, the best craps bets with the biggest payout normally put you at the largest disadvantage.
Avoiding poor bets is the greatest way to make sure you stay better or even longer over a long period. Some of the worst bets odd-wise are the big 6, big 8,hard 4 and hard 10.
Is it possible to play Craps for free?
Most online casinos offer free craps versions of their craps games so that you can get acquainted with the software before actually playing the casino games for money. This is ideal for getting familiar with craps online if you don't have much experience. Nevertheless, to win at craps real money you must play craps online with real money.
Come out roll is the first roll of the dice at the opening of the craps game or the succeeding roll of the dice following a decision of Don't Pass Bet and Pass bet; Come out point: a sum of 4, 5, 6, 8, 9 or 10 rolled by the shooter on the comeout roll.
Are free spins valid in online craps games?
Yes, Free spins are valid. Free spins are pretty much real where you can enjoy the game without staking your real money. With free spins, you can win money, but at the same time, you can't lose making it even more enticing to most gamblers.